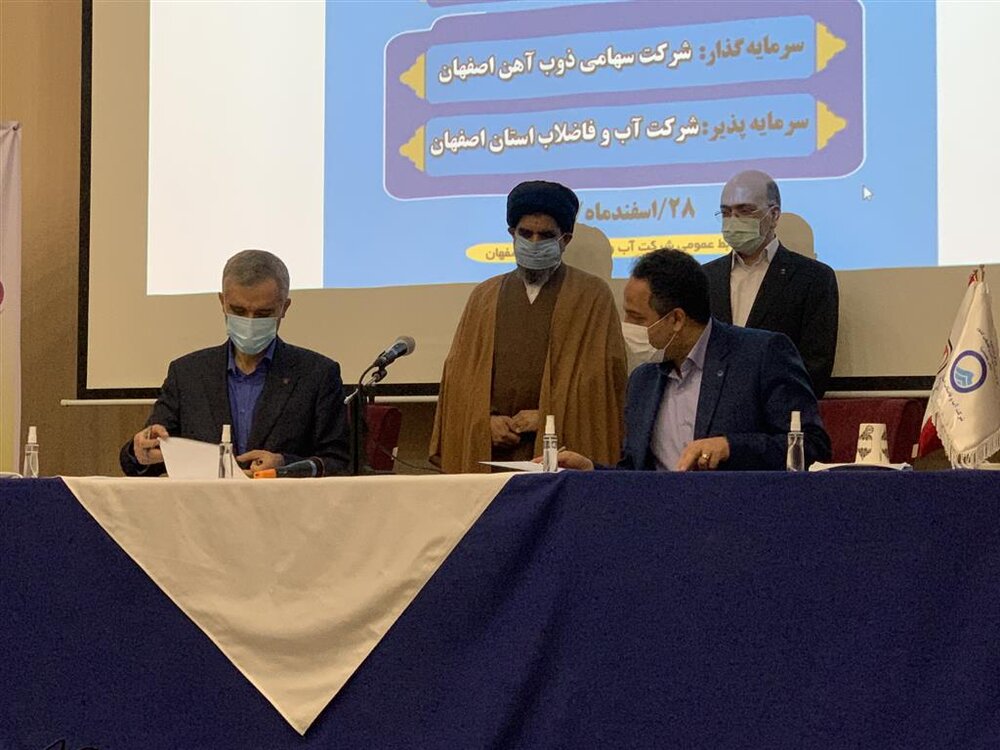 According to the Mehr news agency, quoting Isfahan Zobahan, the ceremony of concluding and exchanging Isfahan Zobahan investment memorandum for the construction of sewerage facilities in 25 villages of Falavarjan city with the presence of Hojjatoleslam and Muslims Seyed Nasser Mousavi Largani, Falavarjan MP Hamid Reza Janbaz Managing Director of Iran Water and Sewerage Company, Mansour Yazdizadeh Managing Director and Hashem Amini Managing Director آبفا Isfahan province was held on March 19th.
Hojjat-ul-Islam and Muslims Largani, a member of the presidium of the parliament, stating that Per year های In the past, only 30% of the sewerage network of Falavarjan city was implemented, but with the arrival of Isfahan Steel to the issue of wastewater, many changes have taken place in the field of water and sewerage of Isfahan province, especially Falavarjan city, said: This action and investment of Isfahan Steel In order to preserve and revive the Zayandeh River, it has been done despite having Aqaba, Has made the most investment in the wastewater sector and 900 billion tomans for construction and collection Bring Sewerage network in Isfahan province and Lenjan and Falavarjan counties has cost.
Mansour Yazdizadeh, CEO of the company, pointing out that Isfahan Steel is from Aqaba He has one cubic meter of Zayandehrud water, said Zobahan, according to the latest statistics, only half of this Aqaba Consumes, while the company's production is higher than in previous years. He added: Isfahan Steel, in addition to the economic and management view of water consumption in order to implement social responsibility has invested in the construction of sewerage facilities in 25 villages of Falavarjan city.
Yazdizadeh considered the share of industries in water consumption small and said: construction of a treatment plant in Isfahan Steel with a capacity of 880 cubic meters per hour, in the form of BOT with the company Mapna It was signed last year that the project has progressed by 25%.
He considered the set of activities of Isfahan Steel in order to reduce water consumption, amounting to 2 thousand billion Tomans and noted: Isfahan Steel to produce 220 mega Watt uses process gas and a small amount of natural gas, which with the help of officials in the Ministry of Energy, according to the law, the amount of gas used by Isfahan Steel to be calculated with the power plant tariff, which is very important for steel that does not use energy subsidies. .
Hamidreza Janbaz, CEO of Iran Water and Sewerage Company, said: Isfahan Steel Investment to collect Bring Rural effluent is an investment in sustainable water, and other industries must take steps in this direction. He added: "Considering the limitations of water consumption, consumption management and turning to alternative sources should always be considered."
Hashem Amini, CEO of Ab Company وفاضلاب Isfahan province, stating that for the first time in the country, the implementation of sewerage facilities in villages was operational with the investment of the private sector, said: This project with the investment of Isfahan Steel in the method Buy Reciprocal amount of 289 billion Tomans was put on the agenda and following the conclusion of this memorandum, 255 km of sewerage network will be implemented in 25 villages and the development of Fooladshahr water treatment plant.
He pointed out: In recent years, over 2,662 billion tomans of private sector investment in the development and construction of sewerage facilities in Isfahan province has been done, in which Isfahan Steel has played a very important role.
Managing Director of Water Company وفاضلاب Isfahan province, referring to the population covered by this project, stated: With the implementation of sewage facilities in 25 villages of Falavarjan, a population of 48,500 people will benefit from the services of the sewerage network, which will have a great impact on promoting public health and reducing biological pollutants. It has an environment that shows the attention of Zobahan officials to social responsibilities.
He added: to prevent surface and groundwater pollution, sewage facilities in Falavarjan villages are on the agenda it placed This was made possible by the investment of Isfahan Steel.