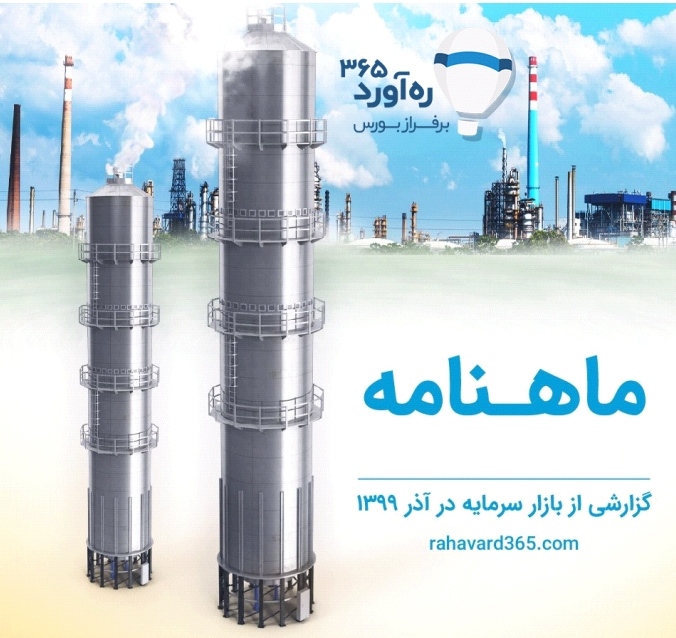 Rahavard 365 is the first monthly report magazine Capital Market Released for December 1399. This monthly is to be published regularly and will be available to capital market participants. Azar 1399 monthly, in addition to the general market information in this month, has gone to the refining industry and has analyzed in detail some important symbols and indicators of this industry, including Shepna, camels and shepherds.
Rahavard 365 monthly is supposed to provide accurate and comprehensive information about various industries and symbols present in the capital market every month.
In its Azar issue, this monthly begins with an analysis of the general market trend in Azar. What is interesting in this section is the most inflows and outflows of real capital, as well as a list of the most profitable and least profitable symbols.
In the following, this report thoroughly analyzes the refining industry in the Iranian capital market and provides its readers with complete information about this industry and its three important symbols.
Refining symbols, which have always been one of the most important and landmark symbols of the market, do not experience very prosperous days. As a result, the price trend of the First Refinery Fund, which reopened on the stock exchange on December 4, has been negative on most days.
This report first provides an overview of the industry by introducing the industry and then provides an analysis of its future by technical and fundamental analysis and examination of various parameters. It can be argued conclusively that information as complete as it is based on both fundamental and technical analysis and examines the entire industry is not available anywhere else.
One of the interesting parts of this part of the report is the technical analysis of the world oil price, which will definitely have a significant effect on the stock price of the refining symbols.
In the December 2016 capital market report, 365 Rahavard experts went to three important refining symbols and examined each one separately. These three symbols are Shepna, camel and shepherd.
The report examines each of these symbols separately and in the form of different sections. Important topics covered in each of these symbols include shareholder composition, financial statements, company risks, valuation and technical analysis. It is safe to say that such a set of information about a symbol does not exist in any other reference as a whole.
Azar 1399 Monthly is available in the bulletin section of Rahavard 365 website. The website will publish such a monthly report, which can be a great help for capital market participants.