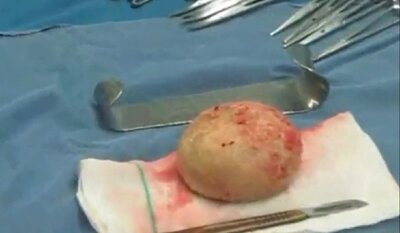 ISNA / Gilan A middle-aged man from Gilani, who had referred to the specialized clinic of Razi University Center with severe abdominal pain, underwent surgery.
Dr. Reza Shahrokhi, a specialist in urology and urinary tract cancer surgery fellowship and the head of the surgical team, stated in this regard: After paraclinical examinations and a set of medical imaging methods, a 49-year-old middle-aged man complained of severe abdominal and bladder pain. He had referred to the specialized clinic of Razi Educational and Medical Center in Rasht, and underwent surgery following the order of the relevant specialist to be admitted to the urology department of this center.
He stated: During this operation, which was performed at Razi University Center, a stone with a diameter of approximately 10 cm and weighing 290 grams was extracted from the patient's bladder.
Shahrokhi continued: the size of this stone is one of the rare cases, which has been unprecedented in recent years.
He considered the cause of the appearance of this large stone necessary, noting: "Research conducted in this regard, shows that the appearance of such stones, especially those that appear as a chronic and long-term complication in patients can be the main cause of some Rare cancers of the bladder, including scc.
According to the information base of Guilan University of Medical Sciences, this urologist emphasized in the end: Paying attention to the symptoms and annual check-up can be very effective in preventing such complications.
End of message