Shamsi Fazlollahi, a veteran sound and image artist who currently plays both a radio and a series, recounted the history of his presence on radio and television and spoke about the hardships of working during the Corona. Simultaneously with Yalda night, he reminded us of the importance of old Iranian stories and told us some of them by choice.
Shamsi Fazlollahi, the veteran artist of our country, is known in the field of radio, drama and dubbing. He started his career in the Valley of Drama with the theater and then entered the radio and continued to work in television and dubbing.
ISNA has talked to this artist on the night of Yalda; Fazlullahi reminded about starting his activity in radio: Before entering the radio, I read theater. In 1339, I went to the radio. I was told to pay attention to your voice in addition to acting. I was playing in the radio show and then I was offered the "Culture of the People" program on Radio Iran.
"After 58 years, he is still collaborating with Radio Iran 's" People's Culture "program," he said. "This cooperation has not been continuous during this period. In 1341, I spoke for the first time in this program. When I was offered to narrate this program, I first refused and said that my job is acting, but I was told that we do not want it to be read only from the text, but it is necessary that the accents and dialects be pronounced correctly in this program. I accepted. I spoke in "Farhang-e Mardom" for about two years until I got married in 1343 and did less radio work. "At that time, I sometimes worked in dubbing and sometimes in theater."
"At that time, the late Seyyed Abolghasem Anju Shirazi and Mr. Mohammad Mohsen Rafiei were the speakers on this program, and I sometimes listened to the program. Years passed and after the revolution, when I returned to radio, I was offered to return to "People's Culture". It was around 1984 that I started narrating again in "People's Culture". During this time several male speakers changed. The late Saremi, the late Ameli and Mr. Rafiei came. Acting made me sometimes miss the show. During this time I worked in theater and serials. "Until about 10 years ago, I was told to go back to the program, I saw that the program was good and I came back, and since then this cooperation has been continuous."
Shamsi Fazlollahi, who has been talking about the customs and traditions of the Iranian people in various areas for many years in the "People's Culture" program, said about this cultural diversity and traditions: The culture and customs of the Iranian people are sometimes beautiful and sometimes sad; Like the lives of people who have both joys and sorrows.
The narrator continued by telling an example of old Iranian stories and said: "In" Farhang-e Mardam ", one of the stories that we repeated many times is the story of" Hamil and Mamil ", which tells the story of an old woman named Nakh Rees and her two sons. The old woman's thread runs out in the winter. Her children go after the thread, but on the way, they freeze. The old woman is very upset and picks up her spindle and goes after her children. He sets fire to his spinning top and says in his local accent, "Hamilm rat mammilm rat, who can I kiss?" Verchlusi Vardarm Aalman Zanam Tash "; That is, my children died, I set fire to a piece of wood, and out of grief, I set fire to the world. It is said that after this word and the burning of wood by this old woman, the heat season begins near Eid.
He added: "For many years, I have been asking the people of" People's Culture "to create a calendar for the traditions and customs of different ethnic groups, not that we should implement all these customs now, but we should know that Iran was made by different ethnic groups and the content of" People's Culture "program It was also sent to us by local writers themselves. Some locals have also published books on the subject. These stories are both sweet and tell us how hard people were suffering at that time. If we say goodbye to the ancients, how happy they were and the next generation will say goodbye to you; Every generation thinks that another lived comfortably and does not know that it was a difficult time.
The veteran actor also recounted the bitter reality of nomadic life in the past: The nomads themselves told me that in the past, when they moved, if they had an old, disabled person who could not be moved, and he himself suffered, in a depression. The mountain left him alone and food was left for him to spend the last days of his life there. They were then forced to say goodbye to the old and helpless man and leave. That place was called Dalo.
"Unfortunately, we do not have many happy stories," he added. They have many celebrations in different countries and religions; Of course, they celebrate in winter, but we Iranians are smart, and in spring we celebrate when everything blooms and is beautiful.
"Of course we also have happy moments, like various weddings and courtships," the artist said. In the past, there were joys and celebrations were held very beautifully. But now, unfortunately, they no longer have the time to do these things and they do not have the facilities. On the other hand, people's views have also changed.
Referring to the prevalence of coronary heart disease these days and the people's fear and fear of this disease, Fazlullahi said: "Caution and hygiene are obligatory and we have been doing these things before." We are a clean country. We have had a shaking house for a long time. In the countryside, women swept white paint into their rooms to clean fire soot. But recently, unfortunately, some of them throw their garbage in the street, which is not true. All the stories we tell in this program are told to tell us that we want to preserve the dignity of nature and properly preserve this blessing that has been given to us. We have to protect the environment for a few mornings as guests of the world.
At the same time, he considered the fear of disease as a factor for human weakness and said: "Sometimes a hot tea makes a person feel good." Fear of disease kills one. Before colds and illnesses, you can prepare your body a little with infusions. Of course, I do not mean that all diseases can be treated with traditional medicine, but these are the things I have learned from my family to the extent that I drink hot water with lemon and various infusions. Eat before illness.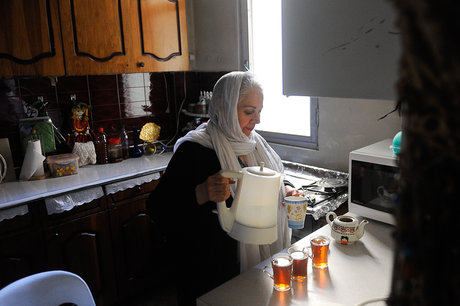 The veteran actor continued his speech by saying that working in the corona days is hard and added: "Disinfection is done on stage and on the radio, but I also take and use alcohol for myself." We can not just wear a mask in front of the camera, but it is kept clean everywhere, and the agents behind the camera all have masks; The actors are not just wearing masks in front of the camera.
"Then we washed our hands too much. This disease caused our hands to shrink!" He said jokingly and sarcastically with many hand washes to combat coronary heart disease. After returning from work, all clothes and shoes must be disinfected, and this daily care is difficult.
The actor, who is currently starring in the home drama series "Romance 2" called "Giso", said about appearing on TV: "I have played a lot of TV works. Even now, if a good story is suggested and it is a good work and the story is not concocted, I accept.
He also said about appearing in the cinema: I played a few films a long time ago, before the Islamic Revolution, and then I did not act in another film. I worked with Anahita, the theater, and my tastes were shaped like this; Until about 1986, when I worked on the film "Stone Lion".
He, who is also a talented artist in the field of dubbing, added: A friend said that if dubbing work is offered, will you not go? I said why, I will go if a good job is offered. Dubbing is much easier now. The dubbing rooms were dark and black at the time, and almost everyone was in the basement with no light. We were all weak, so the life of the doublers was short and they were really a pity.
Shamsi Fazlollahi said in the end: "God willing, this corona virus will go away and we will learn to behave well and respect nature." This year we will see and enjoy the flowers in the mountains.
End of message