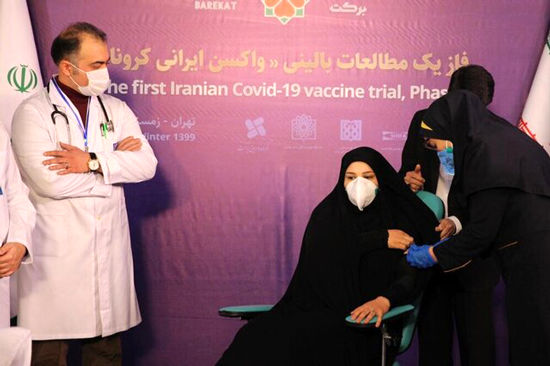 The first phase of the clinical trial of the Iranian corona vaccine was successfully performed today by injecting it on an Iranian woman.
According to the officials of the Executive Headquarters of Imam Khomeini, the first phase of the clinical trial of the corona vaccine began today.
This trial started on a number of volunteers in a hotel in Tehran as a human test.
The first Iranian woman to receive the vaccine is the daughter of the head of the executive staff of Farman Imam, after which the next test will be performed on one of the senior managers of this collection.
The ceremony was attended by the Minister of Health, the Vice President for Science and Technology, and officials from the Executive Headquarters of Farman Imam.
Hojjat Niki Maleki, head of the Information Center of the Executive Headquarters of the Imam Command, wrote in a tweet a few minutes ago: "Until another hour, the first human injection of the first phase of clinical studies, the first corona vaccine produced by the Executive Headquarters of the Imam Command"
He had announced last night that an hour ago, the Ministry of Health had issued a permit to start a clinical trial of the corona vaccine produced by the Executive Headquarters of Farman Imam, and that tomorrow (December 30, 1999) human injections will be given to several volunteers. "One of the senior managers of the executive staff of Imam Khomeini's order is among tomorrow's volunteers."
Source: Mehr