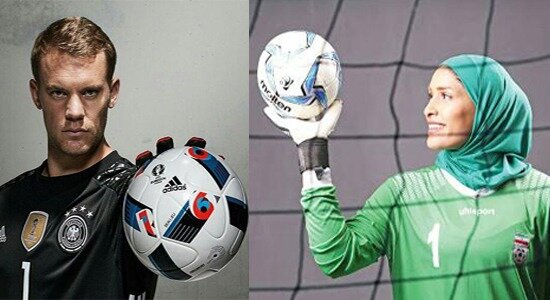 ISNA / Isfahan When I started playing football, everyone said it was a men's sport, can a girl play in this sport !? Everyone was throwing pieces, but when I entered the field and went to competitions, others saw that women's football was progressing, and gradually opinions changed.
The comparison may not be right; If we want to compare the performance of a goalkeeper in the Women's Premier League with his counterparts in men's football; Especially since Zahra Khajavi set such a record in the year 1, and greats such as Abedzadeh and Hejazi in the distant years placed their names in the table of goalkeepers who had the most minutes of consecutive clinchs.
However, statistically, Zahra Khajavi is currently the leading goalkeeper in the history of Iran in terms of the number of minutes the goal is kept closed in club games.
It may be interesting to know that in the history of football club games in the world, a Brazilian goalkeeper named "Mazarupi" is the leader of this table with keeping the goal closed for 4 minutes in a row. From May 18 to September 7, he held his goal for five consecutive minutes for the Brazilian teams Vasco da Gama and Rio de Janeiro to set the most prestigious record in this field.
Although before this There was no record of the number of minutes a goalkeeper kept closed in the Women's League., Zahra Khajavi's stunning statistics last season inside the goal of the Kurdistan Region team made her compare with the top goalkeepers of the Men's Premier League. In the 19th league, Payam Niazmand, Sepahan goalkeeper, broke the previous record held by Seyed Hossein Hosseini and kept his goal closed for 940 minutes, but Khajavi also left Payam Niazmand Sepahan behind and set a record of 950 minutes.However, if we add the game between Bam Municipality and Zobahan in the 97th season, this record will reach more than 1000 minutes.
His presence in Isfahan and being inside the gate of Zobahan caused ISNA to have a conversation with him.
From handball to the goal of the national football team
She was born on the 19th day of Esfandmah in the city of Nahavand in the province of Hamadan, a girl who had a great interest in football since childhood, but He started with handball and is now one of the most successful football goalkeepers in Iran and the world.
He started playing handball when he was 9 years old, but he also played football with his brother, and an incident caused him to leave the futsal hall.
In the very first session, the coach tells him that if he continues, he can become a great player in the future, which motivates him and He just waits for an opportunity and succeeds to succeed.
Two years later, he was invited to the national under-14 team to shine in national competitions, and after that, he wore the national under-14 and under-16 shirts. He will play as a player until 1993 and 1994, and even Ms. Gol also wins, but in 1994, she went to the Hamedan Pass team to test the Premier League football, and on the day when the team's goalkeeper was absent, according to the team's coach, he stood inside the goal.He recalls the actions and reactions of those days and tells ISNA: "Every time I think about my past reactions, I realize that I had an innate talent for this Because I had no training in the field of goalkeeper, after that I stood in the goalkeeper in the national team under 19, youth, hope and adults.
I appreciate all my coaches
He has worked with most Iranian coaches and considers himself appreciative of their efforts, Because he believes he has learned different things from each.
Zahra says: "We have good female coaches in our country, but working with a coach like Mr. Habibi, who knew all the conditions of the gallery, including physical, mental and psychological conditions, made a lot of progress for me." Maybe before he thought I knew everything about being a goalkeeper, but after working with him, I realized I knew a drop from the boundless sea.
Safe from bad backgrounds and the difference between men and women
"Thank God, women's soccer has gradually improved compared to before, and views on women's soccer have changed. Many training fields and women's soccer matches are not standard and good pitches at all. In many cases, this causes serious injuries to the players. ، Of course, we are used to non-standard lands. »
From Bam Municipality to Zobahan
He will play for Bam Municipality for two seasons In the last season of his presence in Bam Municipality, his clean sheet project begins, An issue that continues in Vachan and makes her one of the record cleaners in the clean sheet and draws more attention to women's football. This season is extended with Vachan and he even attends the trainings, but due to a series of events, he decides to leave and goes to Isfahan by saying yes to the Zobi.
I still could not explore beautiful Isfahan
Khajavi says: Thank God I have good conditions in the Zobahan team, I'm glad I came to Zobahan, A great club that has been around in Iranian football for many years, and it is an honor for any player to play in such a well-known club.
Due to Covid-19 disease, unfortunately, I did not have much time to tour in Isfahan, and on the other hand, the discussion of intensive training and competitions does not allow us to go to the city and see the beauties of Isfahan, and we must follow the health tips and protocols, only To say Isfahan is a beautiful city that I have not yet had much experience dealing with kind people, But I am well satisfied with my situation in Isfahan and My best friend in Zobahan is Shiva Fazeli. I'm afraid of the dark, I happen to feel thirsty at night, but I prefer to wait until the morning.
I am my rival
He continues: I think if anyone thinks he has no rival, that day is the end of his work. I think of all my competitors and I respect them And I wish them success.
"But one of my characteristics that most of my coaches know is that I do not compare myself with others, I always try to be better than what I am. That is, I prefer to be my own self rather than focusing on other behaviors of my classmates. I do not see a competitor for myself, of course, I am my biggest competitor. »
I think of Barcelona
Says: I reached the peak of my dreams in Iran And I'm thinking about becoming a legionnaire, and I'm sure that good things will happen to me in the field of sports. I had an external offer that I could not pursue due to a series of events and the discussion of Covid disease – 19 which, if realized, would be an honor for me It was my country. Certainly I will become a legionnaire and I would like to play in Barcelona. I am a fan of the German national team and Barcelona.
New or needy
His patterns outside of Iran that With the determination of Noel Neuer Is. Also from Iranian flowers Mehdi Rahmati considers Payam Niazmand and Alireza Biranvand among the good goalkeepers of our country.
National team
He says: "Considering my age, I can play for both the under-23 and adult teams, but we have not had a national army since 2009, when we were not selected for the Olympics." It makes me fall behind and I have to work harder.
We have good attackers but I can not say which attacker bothered me the most, All are well and it is better not to name.
Cyberspace and rumors
One of his habits is to be in cyberspace, But believes that any professional athlete for all his time, if he has to plan, can use and enjoy his training, competitions and personal life, and that after the flow of his clean sheet, he is more in the spotlight and Attention has been drawn and this issue creates a lot of rumors in some cases that it does not care.
Isfahan derby experience
He says: "Isfahan derby was a good game that had a good level and everyone enjoyed watching it and unfortunately they gave up the game due to their own mistakes and I wish success to Sepahan team."
I consider the game with Bam Municipality one of our hardest games Especially in Bam Municipality and we are guests, but we are going to Bam to get 3 points and I hope good things will happen for our team.
Zobahan also claims
Zahra Khajavi believes that Zobahan has better conditions this season than in previous years The rest of the teams look at the contender, That they are trying to bring Zobahan to its main position in the table.
اThe problem is that women's games are not broadcast And she hopes that the day will come when women's games will be seen differently.
End of message