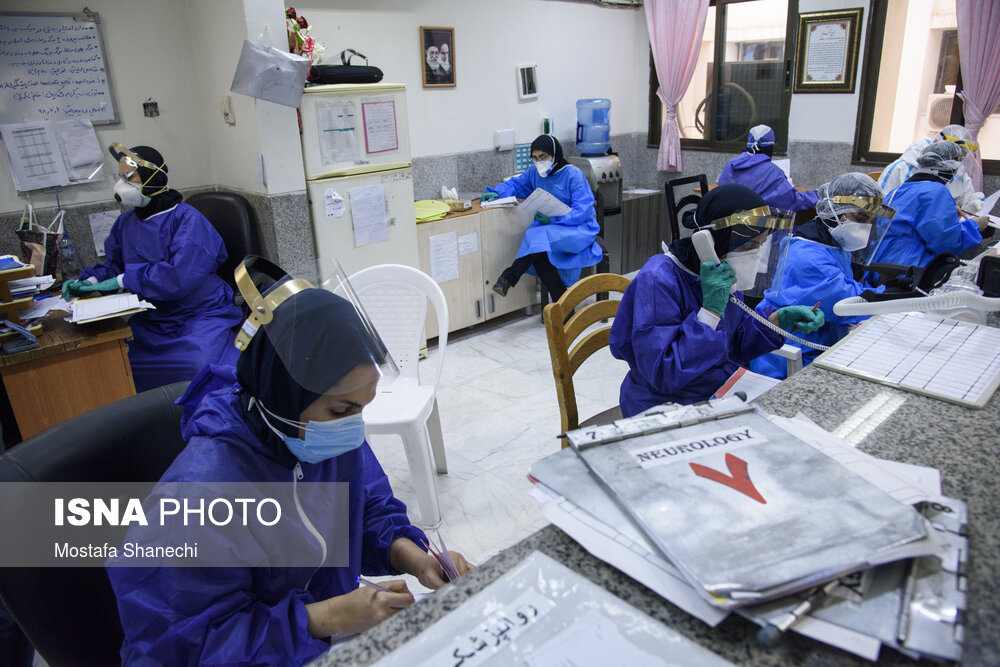 ISNA / Mazandaran This year, on the anniversary of the birth of the great nurse of history, Hazrat Zainab (PBUH), in order to appreciate a part of the efforts of the white-clad angels, the angels who consider the suffering of the sick as their own suffering have found a different color and smell. It is eye-catching.
I was in front of the entrance door of the hospital when a voice caught my attention. "Mom, you can not see me." A child was standing behind the fence door of the hospital, calling someone in a nurse's uniform and asking him not to leave. A girl of about 6 years old with a heavy sadness on her face had not seen her parents for months, because they were both hospital nurses, she was shaking hands with her mother when she was angry. I go forward to accompany him in his grief; Standing next to her is an old woman who calls her grandmother, with tears in her eyes, leaning on her grandmother's legs longing for her motherly embrace. When I approach him, he says in a hateful voice, "I miss my mother. If everyone is together on Yalda night, there will be more coronary heart disease and my mother will not be able to come home again." I wanted to calm her down, but she hated my throat. Was also compact.
Mahsa Mehranfar, the mother of this child, who is a hospital nurse, says: "Together with my wife, who is also a hospital nurse in one of the cities of Mazandaran, we are working and serving coronary patients; sometimes we can't even go home for months, but after reaching We quarantine ourselves at home so that we do not become carriers and infect our children.
"Every day we add to the death toll, we become more grieving; The medical staff is as sad as all the bereaved and lost families how their loved ones are filled in front of their eyes.
The nurse says: "Although my wife and I work hours are contradictory and we may not see each other, and the love of serving people has caused us to see our child behind the hospital fence like today; But Yalda and Durhami will make the situation worse, maybe it is better to come to our senses, Yalda Durhami may be sweet but it is not worth the endless bitterness of the death of loved ones.
Mehranfar says about mental inflammation for nurses: "People's cooperation will reduce their tensions a little." Not only do we see people die every day, but we also lose many of our colleagues.
The happiness campaign was to strengthen the morale of the medical staff
At first, the nurses launched a dance and joy campaign to boost morale, but no one paid any attention to why the campaign was launched, as if those working in a hospital came from another planet and just had to die. Put your hands up and go against Corona. When the number of patients does not decrease and the country returns to normal, they come to the conclusion that they are the only ones who have passed away and their spouses and children.
Sociologists also do not consider mental health problems to be specific to nurses and believe that the mental condition of society will worsen in the post-corona era and the country's officials should be thinking about the psychological consequences of this issue from today.
In an interview with ISNA, Talebali Poursharieh, a clinical psychologist, said in response to whether counseling and psychological services for hospital staff could be effective in this situation: "Unless senior officials believe that Corona kills hundreds of people every day, no action will be taken." Psychology cannot work.
He added: "The outbreak of diseases such as the new coronavirus is frightening and can have a negative impact on the mental health of nurses as well as people."
"From the earliest days of the corona outbreak around the world, all countries have experienced the integration of disease and death, bitter experiences that have targeted the mental health of medical staff in hospitals, and this has led many nurses and Hospital physicians experience burnout.
Poursharieh continued: "Depression and psychological consequences, in the past among some medical disciplines such as blood and kidney disciplines where patients died without treatment, most of their doctors were depressed, even now despite the corona due to its high death rate. , Medical and nursing staff is suffering from severe depression.
He said: "A nurse who has struggled for a few days for a coronary patient with all the deficiencies and fears of her and her family getting coronary, but in the end it does not work and her patient dies in front of her eyes, will undoubtedly get depressed when the death rate rises." , The person subconsciously remembers his father and brother and is afraid that they too will suffer the same fate, and these mental problems make them more acute.
The clinical psychologist added: "Isolation, anxiety and sometimes being in uncertain economic conditions have overcome the mental health of this white-clad army and has created all kinds of mental and psychological tensions for them."
"Medical staff should try to stay in the workplace," he said. "Medical staff should avoid recurring insomnia, because those who suffer from insomnia may suffer from depression, anxiety and other injuries." Stress.
* Treatment staff are supported
In an interview with ISNA, Toraj Asadi, vice chancellor of Mazandaran University of Medical Sciences, said that in the days of Corona, we lost two of our colleagues in the nursing department, but said:
Regarding the shortage of nurses, he stated: "During this period, Mazandaran University of Medical Sciences has taken many measures and we have tried to add more staff to the hospitals by extending the plan or new contracts."
The deputy director of Mazandaran University of Medical Sciences pointed out: "Currently, a number of employment permits have been issued by the ministry so that we can solve the problem by employing a new force."
Asadi added: "Also, the ministry has paid two stages of remuneration and remuneration related to the corona to nurses so far."
The deputy director of Mazandaran University of Medical Sciences continued: "A budget has been allocated in this field for the coming months and the nurses will be paid soon."
Asadi praised the bravery of the medical staff, especially the nurses, and noted: "We try to have the necessary support from the nurses, but we must pay attention to the fact that in the current situation, the most and best help to the medical staff It is towards the people.
Fatigue and depression in nurses need support
Maryam Hazrati, Deputy Minister of Nursing at the Ministry of Health, also stated that 65% of the nursing staff are in direct care of coronary patients. Research on increasing fatigue and depression among nurses has shown that counseling and psychiatric interventions are provided for nurses in many hospitals. .
The most important cause of increased depression in nurses was not family distance, hard work, fear of coronation or hard work, but the most important cause was the death of patients in front of their eyes.
The withdrawal of one percent of the workforce from the workplace in the Corona crisis has not been reserved for nurses and has been in other groups, which is dealt with in accordance with the law. These statements are made at a time when due to lack of medical and nursing staff, many nurses spend a few days in the hospital and their rest time, fear of going home and meeting relatives aggravates their mental health problems.
According to ISNA; When a nurse spends more than 15 hours providing services in difficult mental and physical conditions, the mental and physical condition worsens every day, their number should be so large that their work reaches 6 to 8 hours and quickly and with special arrangements to Go home with their family; If home quarantine and social distancing and the reduction of periods, including the Yalda period, continue, we will face a decrease in statistics.
End of message