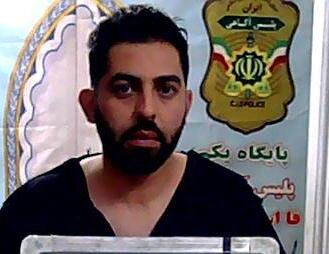 ISNA / Alborz The provincial intelligence police published a picture of a person who visited the citizens by forging a title and presenting a fake medical system card, and through this he deceived them, and asked the citizens to refer to the Alborz province intelligence police to identify the accused.
Col. Mohammad Naderbeigi, the head of Alborz Agahi Police, announced this news: following the referral of a number of cases of fraud allegations by a person who introduced himself as a dermatologist by forging a title and presenting a medical system card, and took action in several offices. Visiting patients, identifying and arresting him was specifically on the agenda of the first base of the Alborz Intelligence Police.
According to ISNA, he stated: Detectives identified the accused by carrying out extensive police actions and based on the statements of the victims, and after several days of monitoring the places where he was likely to be present and traveling, finally while in a A private medical clinic was illegally conducting medical activities, and a medical stamp and an emergency business card were found on him.
Colonel Naderbeigi, noting that the accused has a history of fraud and has been arrested in the past for forging the title of dentist and has been released from prison after serving his sentence, clarified: His unauthorized stopped.
The police official said that he had visited 300 citizens so far, and reminded that 20 of the complainants of this fake doctor have been identified so far, and investigations indicate that the accused owed money from each of his prey. Has received 150 million rials.
He stated: In the additional investigations of the detectives, it was revealed that the accused, by establishing communication and friendship with one of his patients, stole a skin laser device from his house and also sold 4 counterfeit medical devices to his patients at an exorbitant price.
Colonel Naderbeigi stated that a case was filed in this regard and sent to the judicial authorities, noting: According to the initial estimate of experts, the value of the fraud of this defendant was estimated at 8 billion rials.
The head of the Alborz province intelligence police said: "Since it is possible that this person has carried out similar activities in other cities, and considering the sensitivity of the issue that deals with the public health of individuals, the prosecutor of the first branch of the Karaj district court, He has issued an order to publish the unveiled image of this person in the mass media, so citizens who have been deceived in this way or by this person are asked to follow up their complaint to the first base of the Alborz Intelligence Police located in 45 meters from Kaj, Valiasr Blvd., Giveh Kesh St., next to 30 Islam police station.
End of message