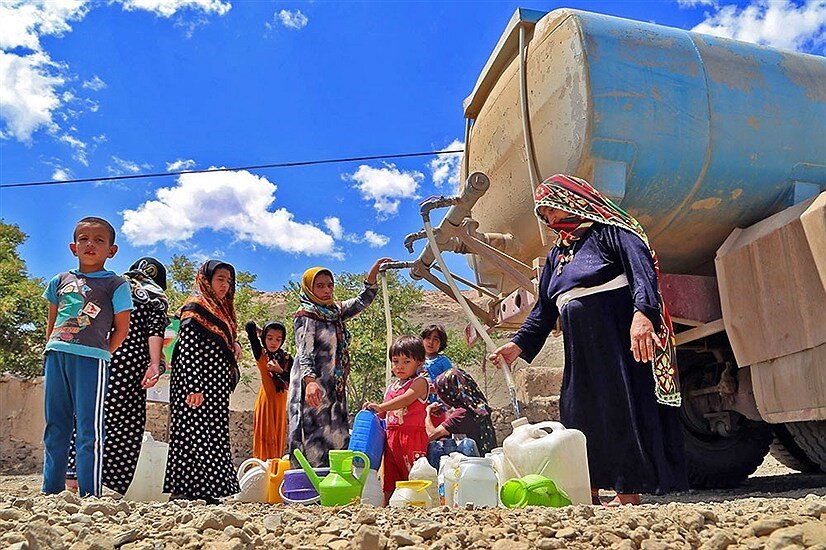 ISNA / Bushehr Water scarcity as the country's most important challenge has always been controversial, to the extent that the Southwest Asian water crisis and related problems have highlighted the possibility and risk of civil strife and inter-state wars continuing past water tensions.
Restrictions on renewable water resources and increasing demand for water have increased the importance and sensitivity of water conservation. According to studies, due to the climatic conditions of provinces located in hot and dry areas such as the desert city of Yazd, optimal and intelligent use of energy is necessary, so due to limited water resources, reduce losses in green space irrigation and increase irrigation efficiency. It is one of the basic principles of sustainable development.
Here, participatory and integrated management of water resources and consumption and its necessity shows itself. Unfortunately, improper exploitation of groundwater aquifers in recent decades has led to a decrease in groundwater resources in most plains of the country, which leads to several issues such as declining groundwater and declining groundwater quality and land subsidence in some areas and if continued can destroy agricultural lands. And lead to rural migration.
Studies show that "intensification of water crisis", "persistence of misuse" and "weakness in water resources management" have a vague future ahead of Iranian society and misuse as a cultural scourge on the one hand and the implementation of wrong policies and trends in the consumption sector. On the other hand, the water crisis has intensified more than ever.
Due to the Earth's conflict with drought and climate change, as well as past water stresses, the phenomenon of water warfare and the intensification of its dangers and threats in the not-too-distant future, using methods such as using treated wastewater in agriculture, cultivating medicinal plants instead of plants. Water intake, irrigation management in agriculture, water loss management in water transfer canals, possibility of using saline water in water shortage conditions, use of dams, collection and extraction of rainwater, use of agricultural effluents to improve barren lands, subscriber monitoring (AMR) for Dealing with apparent losses, using urban drainage to irrigate downstream lands, recycling and reusing municipal wastewater, minimizing water consumption in the industrial sector, improving surface irrigation management and using local irrigation, and many other practical and practical solutions are needed and of course necessary. The time is now.
People want water!
The importance of water consumption management in various sectors of household, industrial and agricultural becomes more apparent when we know that in many areas of drought has shown its ugly face and climate change and specific climatic conditions and water resources of Iran in such a way that in provinces such as Bushehr, Khuzestan, Sistan and Baluchestan, Yazd or Khorasan People have many problems to access their daily water consumption and of course it is very strange to In June of this year, the head of the Islamic Council of Rostami village in Tangestan city stated in a meeting to study the water problems of cities and villages in Tangestan city: "The water problem is deep and should not be looked at superficially. has it." Seyed Nafiseh Abtahi continued: "What I am saying is not an exaggeration and it is the reality of the region. Here, people wash their faces with water cooler or perform ablutions. This is not really beautifying our region."
He also said: "This is not an exaggeration and I am telling the truth of our region, the party wants to wash its face, it must go and take the water cooler, it wants to perform ablution, it must take the water cooler, this is not really beautiful in our region. Please allocate budget and credit for water supply in the region, why should such conditions continue. In Khuzestan, several people had deadly experiences because of water, should there be a similar problem in our region? Or will there be conflicts in our region? We have become a shield against the people and the officials. "Our people are people with shame and modesty. It is true that they do not come to the governor's office or the governor's office and the district, but they come with water coolers. Give us a solution. We do not have water and the situation is difficult. Our people want water!"
The boy who ate the Gandos!
Also, according to a representative of Sistan and Baluchestan province, this region has the "lowest rate of access to drinking water" in the country and the mourning of dehydration and thirsty lips of these people and their women and children has become a cry for water, to the point that Motahara Moradi, a media and social activist in the province, wrote in a note in October this year entitled Endless Water Lament in Sistan and Baluchestan: "Until now you have heard the name 'Hotg', 'Hotg' is a pit where rainwater collects and is shared by humans and animals. Many villagers in the south of Sistan and Baluchestan province depend on these hotspots for the water they need. Many of our dear people do not know "Eve", a 10-year-old Baloch girl. As in the "Plan" section of Chabahar city, he went to the river to irrigate himself and his family, but returned with one hand. Finally, the other hand was taken by the Gandos. Or 11-year-old Alireza; The one who was not even as lucky as Eve and ate the same Gandos.
In recent years, about 20 children in southern Sistan and Baluchestan have lost their lives as a result of drowning in hutges as well as gando attacks. Meanwhile, according to official statistics, only 19% of the residents of Sistan and Baluchestan have access to safe drinking water, and more than 80% of the citizens and residents of the rural areas of the province are deprived of access to the water supply network. Currently, more than 40 villages in the city of "Helmand" located in the north of Sistan and Baluchestan province have water problems and 50% of its villages have no water at all and are supplied with water by 5 tankers.
Hearing the name of the "former" dam refreshes the hearts of the villagers of Balochistan. The dam, located 9 km southwest of the former and near the border with Pakistan, has a capacity of 175 million cubic meters and its construction goals include agricultural and drinking water, but the problem is that 25 years have passed since the opening of the former dam, but the villages Downstream they are still thirsty for a drop of water. "Of course, when the metropolis of Zahedan, with a population of 67,2589, of which only the metropolitan area bears its name, about 30 percent of the population has no drinking water and only half of its population has quality drinking water, the task of more remote and deprived areas is clear."
There is oil and corona, but not water
And Khuzestan, Ahvaz and Ghazni … with hundreds of oil wells and drowning in deprivation. To the extent that the cry of thirst was heard to the farthest corners of the world. It is difficult to write about the pain of the people of the region who have oil but live without water, and it is enough that their thirst has cut them off. June 1999 – Shayan Haji Najaf, a Khuzestani media activist, wrote in a report: "The Ghizaniyeh section of Ahvaz, with more than 600 oil wells, and people who have been struggling with dehydration for years and are looking for water in the confusing tangle of oil pipes; A drop for life! In the midst of the outbreak of the Corona virus and the red situation in Khuzestan, dehydration has become high for the people of Ghazni, Ahvaz, and the heat is hot. In these circumstances, it was on the 3rd of June that the voice of the people of Ghazni against the dehydration was heard more than ever, and a number of residents of the "Ahvaz-Ramhormoz-Omidieh" road closed and protested against this situation. The people of the region have no desire other than water, and what they are shouting is water, water.
The people of Ghazni have heard the promise of water reaching this region from land and time for years, and it remains to be seen when it will be delivered to the people through the intricate coils of oil pipes, water pipes and water; "Water that can bring life back to this land and be a relief for the pain of the people of this region."
Water shortage alarm and end of water resources
In addition to southern provinces such as Bushehr and Khuzestan and cities such as Ahvaz, in some metropolises such as Tehran and Isfahan, the alarm of water shortage and the end of water resources has been sounded. Despite the appropriate rainfall in recent years, the condition of groundwater aquifers is not suitable due to uncontrolled abstraction in the last 10 years, and due to the consequences of climate change and per capita reduction of renewable water, increasing water consumption increases the volume of groundwater abstraction And exacerbated unfavorable conditions in water resources.
The growing population of the world along with the expansion of agricultural and industrial activities to increase food supply on the one hand and the successive droughts in recent years on the other hand have reduced the available freshwater resources; Iran is one of the countries in the Middle East that will have an annual rainfall of 20 to 25 percent less than the average annual rainfall from 1961 to 1950. In addition, Iran is now one of the countries whose groundwater abstraction exceeds international standards. Is
The Director General of the Office of Consumption Management and Improvement of Water and Wastewater Productivity of the Ministry of Energy last summer, regarding whether low rainfall like the current water year indicates the end of droughts and water stress, said: He knew the years of low rainfall.
Banafsheh Zahraei added: "We do not have any definite vision for the next water year, which starts from the beginning of October 1998, and we can not say from now on that we have a rainy or normal year or that we will face a dry and low rainy year, so We must consider the appropriate water resources stored in the country's dams in the current water year, in addition to summer consumption, for at least part of the autumn consumption, so that we can have optimal management if we have a dry water year ahead.
He said that Iran is located in an arid and semi-arid region and this fact does not change with one or more rainy years, he said: In addition to our country's climate, man-made factors and low water prices are among the factors affecting water scarcity, in fact We have not dealt with water scarcity in Iran as it should be managed.
supply Water is one of the main concerns and issues of governments now and in the future, for which purpose large investments have been made in this sector, but it must be accepted that one of the main strategies is to use the chain in proportion to changing its quality in various sectors of consumption. In this regard, it is necessary to use the practical instructions and necessary recommendations provided by the experts and managers of that department. Examples of these methods are the use of gray water or sewage in activities such as agriculture and horticulture, as well as the use of recycled effluents in agriculture and fisheries as part of unconventional water that can have many applications in saving water consumption.
For more than a decade, drought has left a deep mark on every corner of Iran and has become a great challenge. Due to this issue, people need to use water management strategies in non-domestic and home uses as well as general water management strategies. Become familiar. In this regard, water consumption reducing devices are tools that by using them, the volume of water consumed without causing the slightest problem for subscribers is significantly reduced and in the arid and semi-arid climate of Iran will play a significant role in saving water consumption.
What is important is that today we have reached adaptation to the drought and we are testing and error in possible ways and implementing solutions to adapt to the existing conditions, so it is necessary to continue this important and positive move in changing the view of water issues while Avoid ineffective, ineffective or even destructive approvals, avoid looking at and emphasizing the political aspect of water issues, and avoid damaging or ignoring structures related to society and the environment.
Report from "Zohra Arab"; ISNA correspondent in Bushehr